Beat Bootcamp Boredom and Make Your Life Easier...
Get 31 Done-for-You Metabolic Resistance Training Bootcamp Workouts for RAPID Results from Turbulence Training Creator, Craig Ballantyne
Every Trainer Needs These Cutting-Edge Fat Loss Bootcamp Workouts
in Their Training Toolbox.

Dear Bootcamp Expert,
In this inner circle article, you're about to discover how to TRIPLE your productivity, work less, and have an amazing life...all thanks to a new advanced fat burning workout system.

I know, I know, it sounds a little odd. But here me out. As we both know, there are only so many hours in the day for you to take your bootcamp business to the next level.

You have to get NEW clients, keep your current clients EXCITED about your bootcamps, and you have to continue creating amazing new workouts every day.

That's a LOT of work, not to mention a LOT of stress - especially when client attendance falls off because of boredom. It happens.

So what if we could FIX all of those problems with the *CLICK* of a button. Here me out...

Now Here is Where I Can Help You...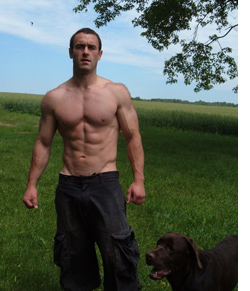 Enjoying More Free Time Thanks to Fast Workouts and a Systematized Business


If you don't already know me, my name is Craig Ballantyne and my Turbulence Training programs have literally helped millions of men and women lose 10, 20, 30 and even 41 pounds in just 8 weeks.
Over the past 18 years - since I was just 14 years old - I've been studying fat loss, exercise, and advanced workout strategies every hour of my work day.
From reading bodybuilding magazines as a teenager to studying scientific journals, I've looked high and low for every possible bodyweight exercise and fat burning tip.
But NOTHING beats EXPERIENCE.
In 2003, at the height of my personal training client days, I was only getting about 4.5 hours sleep...
Each night I'd hit the sack around midnight after creating new programs for Men's Health magazine and for my personal clients, and then I'd be back up at 4:30am to write articles for my website and newsletters (and answer client emails) for 30 minutes.
At 5:21am, I'd sprint down the street to catch the bus downtown where I'd train clients from 6-12, take a lunch break and do my own workout, and back to clients from 2-5. After dinner, I'd walk through a questionable neighborhood in Toronto's West End where I ran bootcamps in an old Community Center.
Most nights my energy was dragging at about 6pm, but as soon as I got to the bootcamp classes it went back through the roof again.
Training folks in a group is some of the most fun you can have at work.
Some nights I'd train 15-20 people working hard and having fun in the bootcamp. I even started doing a few afternoons where I'd run smaller groups of 4-6 people just because it was so much darn fun.
Bootcamp workouts are a WIN-WIN-WIN situation, and here's why...
You'll help more people in an hour than you do all day.


You'll likely get paid even more to do that one hour than you do for all of your individual sessions.


Plus, each person in a bootcamp pays just a fraction of the price as the one-on-one clients who trained at the gym.
> The campers wins.
> Your income wins.
> Your family/hobbies/personal life wins.
Plus they get more results because of the social support... not to mention that you no longer have to worry about every personal trainer's WORST NIGHTMARE - "no show" clients. I know that for many of you, if a client doesn't show up, you don't get paid. And we all know that time wasted equals money lost.
But NOT with bootcamps, and that's just another reason why bootcamps are the best way to be earning a living as a trainer these days.
And so that's why I went back and went through all of my old bootcamp workouts from back in the day, fixed them up based on some new science and exercises I've discovered, and created.
Turbulence Training MRT Bootcamps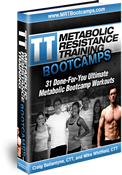 Inside you'll discover over 31 done-for-you ultimate metabolic bootcamp workouts, including 31 advanced MRT workouts, 10 beginner workouts, AND 20 challenge workouts. Not to mention all the ideas you'll get for your own versions.
The truth is... with so many workouts to choose from, you'll easily keep your programs fresh, exciting and effective for a long, long time.
Check out just a handful of the workouts you can use to consistently beat bootcamp boredom and stay ahead of the competition...